An ideal view on the Mekong River, a remote area with untouched forests and unknown wildlife, a diversity in ethnic minorities, a specific local gastronomy, the traditional practice of massage, all that points are strength for a Pak Beng open to tourism, proposing more and more activities to whom would like to stay one more day, to discover this area where tourism is not very developped, where people kept their own traditional ways of living. Nature & Wildlife are the 2 main attractions of the area, well known to be a sanctuary for elephants, a good place to practice kayaking, or to visit the impressive Thousand years tree forest. We can organize you a tour in Mekong Riverside Lodge.
The Thousand Year Tea Fore
Location: 30km from center-town (1h30 drive)
Total time of visit: 4 hours
Assisted with a local English speaking guide, spend a half-day journey to visit the 1000-year tea forest, exploited from centuries by the locals. As reported, some trees might have nearly 2000 years. There, even if the area is not officially protected, the primary forest still remains, with untouched nature and unknown wildlife.
---
Elephant watch & rid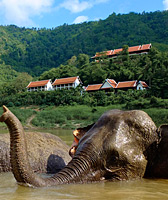 Location: in front of the Mekong Riverside Lodge
Total time of visit: 1-8 hours
The Mekong Elephant Camp also offers visitors the chance to experience everyday life with the elephants and their mahouts over a period of several days allowing them to develop a bond with the animals. During the elephant treks, which wind through the surrounding forest over paths connecting various different villages.
---
Visit ethnic minorities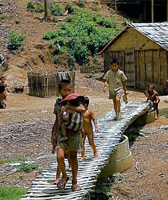 Location: All around Pakbeng
Total time of visit: Half-day – Full day
Because Pak Beng was quite a remote area before the communication ways were developed, Pak Beng remains some villages where way of life didn't changed for centuries. Despite the mobile phone and electricity, the rhythm of life, the traditions and cult, handicraft is still the same.
---
Visit the religious highlights
Location: Center Pak Beng
Time of visit: 1hour
Wat Si Chom Chaeng and Wat Kok Khor are the 2 main religious sites of Pak Beng, the last one is more than 400 year old. While neither of these wats are worth travelling across Laos to see, they're a good excuse for a stroll to stretch your legs after a full day of sitting on a boat